Article
How Does Supporting Citizenship Benefit All of Us?
Image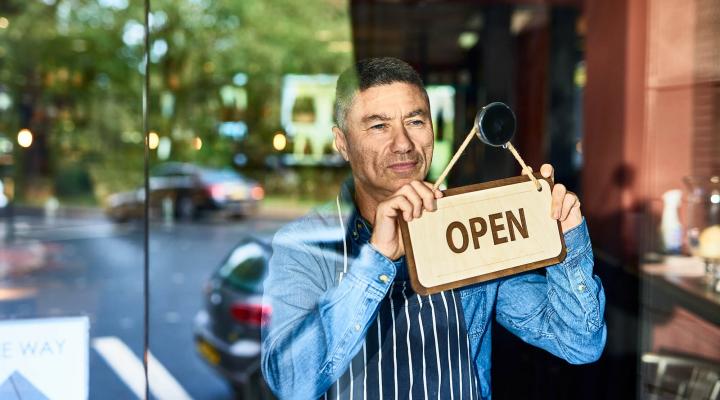 Citizenship is the great equalizer. It enables people who've lived and worked in this country for years, paid taxes and contributed to their communities to exercise the same rights and privileges as those born in the United States.
It creates opportunities for them to deepen their ties to this country and enables them to contribute even more. However, despite these benefits, most eligible immigrants are unable to access citizenship. This is primarily due to existing financial barriers.
"Each person who comes through our door is on a different journey."
– Martin Luther King, Jr.
Citizenship application fees have more than doubled during the last 20 years and are likely to continue to increase. More than half of the 25 million noncitizen residents have a legal path to citizenship and of those, each year, approximately 9 million are eligible to apply for citizenship. However, according to the Department of Homeland Security, only about 800,000 (or one out of 10) apply.
By tackling the financial barriers for the existing 9 million immigrants on a clear path to citizenship, our nation has the opportunity to unlock the collective benefits of citizenship for all. And, in doing so, we will light the way for the millions who do not have a path yet to follow.
Citizenship: Good for Individuals, for Our Communities and for Our Country
New Citizens Increase Civic Engagement
For individual immigrants, the benefits of becoming a US citizen are extensive. Citizenship provides individuals the ability to vote, serve on juries and run for political office. Additionally, citizenship allows immigrants to settle into their American lives, travel freely and build roots without worrying about deportation. It provides the opportunity for greater earning potential and greater access to financial products and healthcare. For many, it provides the chance to reunite with family members and to finally call America home.
New Citizens Strengthen Our Society
Media depiction of immigrants historically has been highly politicized. Yet, the majority of people in the US — regardless of political affiliation — support a path to citizenship​.2 And despite media influence on public attitudes, Americans largely believe that increasing racial and ethnic diversity make the US a better place to live.3 According to a 2020 Immigration Gallop poll, two-thirds of Americans reported that immigrants strengthen the country because of their hard work and talent.
Immigrants have been hailed for their roles as essential workers during the COVID-19 crisis yet are more likely to lack health insurance or qualify for safety net benefits. Becoming a citizen offers more options and access to healthcare, improving the overall health of the nation.
Once lawful permanent residents become citizens, they become full participants in our democratic process. When new citizens have a voice and a vote, democracy becomes more inclusive and representative of the nation of people we are today. New citizens become longtime productive residents in our society. Additionally, they help to pull noncitizens out of the shadows and bring them into our communities and into the immigration conversation.
New Citizens Expand Our Economy
The American economy relies on immigrants — they are taxpayers, entrepreneurs and an essential workforce.
Immigrants contribute more to payroll taxes than they consume in public benefits.4 Unauthorized immigrants generate millions in social security taxes under ITIN but do not receive social security benefits. The Social Security Administration has asserted that without unauthorized immigrants, Social Security would have already failed as a system.4 And according to a study by the Congressional Budget Office, economists believe immigration creates a real opportunity to reduce the current federal deficit.5
Despite popular misinformation, there is a high employment rate among immigrants. They do not take away from jobs, they expand them. With an entrepreneurship rate nearly twice that of US born citizens, immigrants currently generate tens of millions of jobs and bring in nearly a trillion dollars in annual revenue.6 Given a path to citizenship, the undocumented population is expected to add more than 800,000 jobs for all US workers.7
Additionally, immigrants have a higher participation rate in the US labor force compared to US born citizens. Naturalized citizens are employed at higher rates than noncitizen immigrants. With the baby boom generation retiring in greater numbers and the US birth rate continuing to decline, the immigrant population will play a greater role in preventing a workforce shortage.
Why Support Citizenship
As a country we believe that anyone, no matter where they came from, should be able to become an American citizen if they're willing to put in the work and take on the responsibilities of citizenship. We know that increasing our citizenship doesn't just promise a better life, it provides individuals, our communities and our nation a path to greater prosperity. Your support can lower the financial barrier that so many currently face, increasing the rate of naturalization. And by doing so light the path for others to follow.
#investinginallofus
---
1 Baker, Bryan: Estimates of the Lawful Permanent Resident Population in the United States and the Subpopulation Eligible to Naturalize: 2015-2019, DHS Office of Immigration Statistics, 2019
2 Data for Progress Survey, 2021
3 Fingerhut, Hannah: Most Americans express positive views of country's growing racial and ethnic diversity, Pew Research Center, 2018
4 National Immigration Forum: Immigrants as Economic Contributors: Immigrant Tax Contributions and Spending Power
5 Lynch, Robert and Oakford, Patrick: The 6 Key Takeaways from the CBO Cost Estimate of S. 744, Center for American Progress, 2013
6 Office of the President: Fixing Our Broken Immigration System, The Economic Benefits of Providing a Path to Earned Citizenship
7 National Immigration Forum | Immigrants as Economic Contributors: Immigrant Entrepreneurs