Article
Costs Involved in the US Citizenship Application Process
Image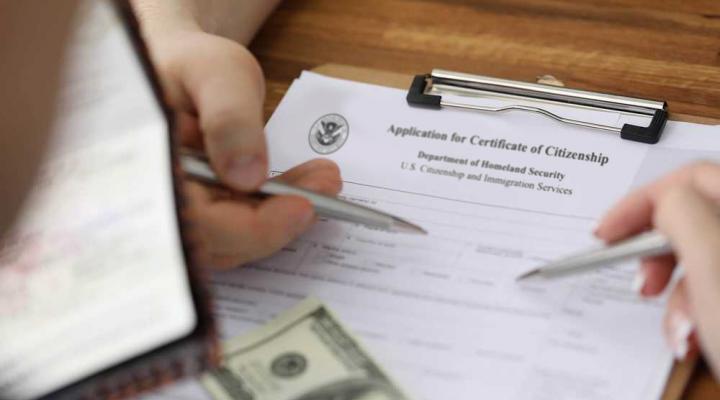 How much does it cost to become a US citizen? This might be the most important question or concern you have about the USCIS application process.
Unless you qualify for a fee waiver, you can expect to pay government application fees. You'll likely need to work with people who can assist you through the process, and that can add to the cost. But don't worry. We understand you may have real concerns about costs and we are here to help.
There are many ways to reduce your overall costs. And there are many ways to fund these costs, in addition to cash, family and credit cards. In this article, we'll share with you what costs are involved and how you can minimize them.
Application Fees for Citizenship Are $725
It typically costs $725 to apply for citizenship. That cost includes the $640 application fee for Form N-400 and the $85 fee for your biometrics appointment (at which you are fingerprinted, a photo is taken and your signature is given). USCIS has a helpful fee calculator you may find useful during the process.
If you are in one of the following categories, your costs can be reduced or eliminated:
If you are age 75 or older, there is no biometrics fee, only the $640 application fee.
If you apply for and receive an application fee reduction:

If age 18-74, the fee is reduced to $405.
If age 75 and older, the fee is reduced to $320.

If you are active-duty military or a veteran, your application is free.
If you apply for and receive a fee waiver, your application is free.
Are you taking the lead to help other family members become citizens, too? That's great! Just be aware, each member of your household age 18 or older also seeking citizenship needs to file an application and pay the appropriate fee. Be sure you know what application and fees will be required based on the status of each family member. Once you become a US citizen, your minor children may be eligible to become citizens, as well. Keep in mind, in many cases, these minor children do not need to request US citizenship. Rather, it is automatically conferred when either parent naturalizes if certain requirements are satisfied.
You May Qualify for a Fee Reduction or Waiver
It is possible to have your citizenship application cost reduced or eliminated. Here's what you need to know:
Fee Reduction
To apply for a fee reduction, you need to file Form I-942 with supporting material and Form N-400 and the reduced fee amount. Keep in mind that only the filing fee will be reduced by 50%. The biometrics fee will remain $85 unless you are 75 or older. To qualify, you must demonstrate that your total annual household income is more than 150% but no more than 200% of Federal Poverty Guidelines.
If your application is denied, you'll receive a notice to resubmit the application with the proper fee. The reduced fee payment you sent will be returned with the entire application to be resubmitted with proper payment.
Fee Waiver
To apply for a fee waiver, you need to file Form I-912 with supporting material and Form N-400. Receiving approval for a fee waiver is more common than you think. On average 80% of all USCIS fee waiver requests are approved. On an annual basis, close to 20% of all citizenship applicants receive an approved fee waiver.
To qualify, you must demonstrate that your total annual household income is at or below 150% of Federal Poverty Guidelines or that you have a significant financial hardship, such as medical expenses or unemployment.
Including a fee waiver or reduction request in your application can add up to several months to the USCIS processing time and if rejected, you will have to reapply and start from the beginning. If saving time is important to you, you may want to consider using a low-interest loan as a way to pay the fees. We highly encourage those on the path to citizenship to consult a local nonprofit immigration service for assistance in applying for either a fee reduction or waiver.
Help to Prepare Your Application May Cost Extra
You may have heard the process costs thousands of dollars. Unfortunately, it can. There are numerous expenses people commonly incur that can add up to significant costs, such as application preparation assistance, legal review, document request fees, translation services and travel for appointments. (But keep reading. We're also going to share our tips on how to reduce your costs.) From start to finish, the cost of applying for citizenship can range between $150-$2,000 (not including the USCIS application fees). Of these potential expenses, the largest is fees for professional assistance with completing USICS forms. Here are the three most commonly used application preparation services, and what you can expect to pay for them.
Legal professionals or firms specializing in immigration:
For basic immigration legal support for form filing, expect to pay approximately $500 - $1,200 in legal fees. These fees may be reduced if you qualify for pro-bono legal services.

Online application assistance:
While hiring a lawyer is the more typical route, online assistance is an alternative option. These services, such as Citizenpath or Boundless, cost between $150-$350 for each citizenship application (not including USCIS application fees).

Nonprofit immigration service organizations:
Local providers can be a great place to start and they often offer assistance for free or at a low cost. They have comprehensive services that help determine your eligibility, prepare USCIS applications and guide you to the right resources.
Other costs, in addition to application preparation, are minimal yet good to know:
Class tuition, to prepare for the English or civics tests.
Documentation or translation fees ($20-$40 per document).
Travel expenses to get to appointments.
Shipping costs for submitting your application.
Photography fees.
Free or Low-Cost Help Is Available
So, what about those tips we said we'd share? Here is our top advice to help you reduce or eliminate costs:
Tip #1: As an alternative to hiring a private attorney to assist with application preparation, you can consider using websites that offer both application and legal review. The average online legal review costs $150-$350 which is big savings over independent attorney fees. It's important to note that more complicated cases may require additional legal assistance.
Tip #2: There are a lot of local nonprofit organizations that specialize in citizenship assistance for free or low cost. Make sure to seek out nonprofit Department of Justice (DOJ) accredited organizations, such as Project Citizenship, which offers classes and clinics, or an organization with a lawyer on staff. Visit the One Percent for America resource page to find a nonprofit near you.
Although there are costs to becoming a US Citizen, it is attainable!
It's important to think and plan about all the costs AND how you can pay for them as early in the process as possible. Once you know what to expect, you can make decisions that are best for you!
Don't let cost considerations hold you back from seeking citizenship. Finance options, such as the OPA low-interest loan, can help you pay the $725 in application fees.